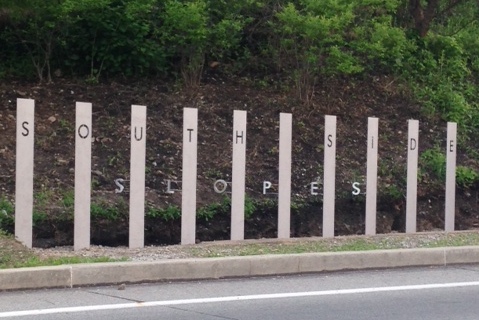 The South Side Slopes Neighborhood Association (SSSNA) is pleased to announce the completion of a unique entrance marker reflecting the uniqueness of the neighborhoods it announces. The signage has been erected on PJ McArdle Roadway on the corner of Windom Street. A grant from the now-defunct South Side Local Development Company (SSLDC) made the project possible.
Peter Kreuthmeier of Loysen + Kreuthmeier Architects, the lead on this project stated, "similar to other 'welcome to the neighborhood' markers, the Windom/McArdle Gateway makes use of cor-ten steel as its primary material – paying tribute to the neighborhood's rich steel history."
The site is an entry point to both the South Side Flats and South Side Slopes, depending on the direction of travel. The words welcome drivers into each neighborhood – either the Flats or the Slopes. Mr. Kreuthmeier added, "Although the piece has no moving parts, when approaching the Flats, it reads 'South Side,' and from the other direction, it reads 'South Side Slopes.' For such a simple effect, there was quite a bit of study to get the angles just right."
Loysen + Kreuthmeier interns, Jonathan Tomko and Mary Waelder played a huge role in seeing the idea become a reality. Credit also goes to the following: the City of Pittsburgh's Department of Public Works for removing a power pole and repositioning traffic signage; to the U.S. Postal Service for their promise to relocate the relay mailbox; and to Standard & Custom for their expert fabrication and installation services.
Press Release: Press Release_South Side Entry Signage 5-2016