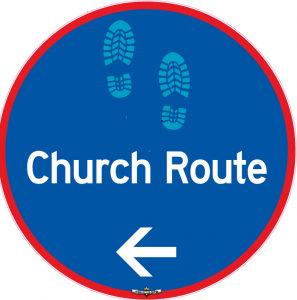 The Church Route on the South Side Slopes neighborhood of Pittsburgh is a walking tour that goes up unique stairways, over beautiful views of the city, and by eccentric hillside architecture and historic churches. For 10 years this route was a part of our annual StepTrek but we decided to retire it and post it here instead!
Printable Instructions with Route Narrative
Smart Phone Friendly Google Map of the Route
Questions? 
Q. How long does this take?
A. About an hour.
Q. How many steps?
A. 379 steps up, 441 steps down.
Q. Are there signs? Will I get lost?
A. Church Route signs were installed in the June of 2016.
Q. Does it cost anything?
A. 100% free. Any online donations however will help us maintain the stairs.
Q. Where can I park?
A. There is plenty of street parking and lot parking. Check out the South Side Pittsburgh Parking Authority Parking Lots: Parking Lots.
Q. Okay, I have a smart phone, what is the route?
A. Here is a link: Church Route
Q. Okay, I do not have a smart phone, what is the route?
A. Here you go: Church Route
Q. Is there another route available?
A. We are constantly constructing new routes for StepTrek. Please join us!

View Church Route in a larger map