A message of thanks to our Trekkers, volunteers, and sponsors from the South Side Slopes Association President, Brian Oswald: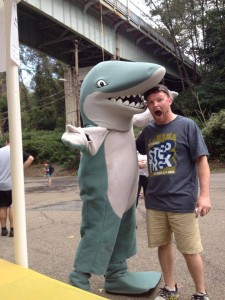 The first Saturday of October is fast becoming a favorite of people both near and far as they make their annual pilgrimage to the South Side Slopes. This year we welcomed over 700 people that enjoyed gorgeous 80+ degree weather as they sweated out the their boredom with cookie cutter neighborhoods and suburbs as they climbed the steeps of the slopes. In our most financially successful trek in the 13 years of its existence we expanded our signature event to include an orienteering course thanks to the Western Pennsylvania Orienteering Club and Alexis Rzewski, as well as having mobile maps for smart phone users. The expanded StepTrek Marketplace welcomed both food trucks and fashion trucks to create a great atmosphere among the music, volunteers, and trekkers. The PPG Zoo and Aquarium even got in the fun this year with a chalk artist and Shark mascot. This event is defying the theme of this year's event of "what goes up must come down" as we grow to entertain and work out a consistent crowd of enthusiasts falling in love with what our neighborhood has to offer year after year. The successes of the past few years are going to allow us to even further expand this event in the years to come as the financial gains increase our ability to promote the event to an even wider audience.
If you'd like to know the exact revenues and attendance of this year's event come join us at our general meeting on Tuesday October 15 at the St. Paul of the Cross Monastery Retreat center at 7 PM.