Throughout the year, members of the StepTrek committee plan routes, look for steps that need repair, participate in regular cleanups and solicit sponsorship.
One of the more fun parts is choosing our artist for StepTrek. This year's choice is Kathryn Carr. She has created this beautiful paper cut piece for us inspired by the German paper cut art Scherenschnitte. You can find prints of Kathryn's work at various stores and "I Made It" markets around Pittsburgh. For more information about her, visit her website. We will have prints of this piece for sale at StepTrek.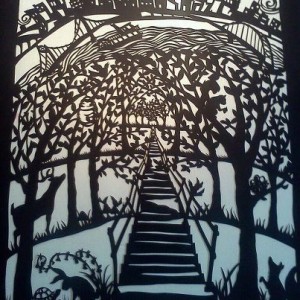 Hope to see you on October 6, 2012 where you can see the stairs that inspire Kathryn and all of us residents of the Slopes.