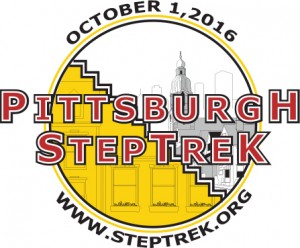 In its 16th year, the Pittsburgh StepTrek will begin Saturday, Oct. 1, 2016 at 11AM at South Side Park (Josephine & 21st Streets) on the South Side. The event has lasted this long due to the backing of individuals with a curiosity as to what lies at the top or bottom of the numerous public stairs in the neighborhood.
This year's event will highlight:
Mosaic Steps Public Art Project on Oakley Street Steps
Newly signed Church Route
Trail through South Side Park connecting to Sterling Street
Knoxville Incline Greenway
Performances by Steppin Stanzas
The routes will take a tour of the hillsides and spectacular views that distinguish Pittsburgh. The family-friendly event combines photography, historic narrative and a sense of a neighborhood dependent upon steps. Each pre-registered trekker receives a map and a course narrative.
StepTrek is what the trekker makes it. Participants may choose to use this noncompetitive event as a test of fitness or a leisurely stroll. The benefits of a stirring walk through the Slopes have earned this event the heart-healthy rating of the American Heart Association. Special pricing makes the walk an attractive way to experience the city on an autumn afternoon.
The Trek itself is self-guided. The course narrative points out the landmarks and gives a history of the stairs and buildings, counts the steps and also provides instruction as to the route. Arrows along the course provide direction as well.
Proceeds from the StepTrek benefit the South Side Slopes Neighborhood Association (SSSNA), an all volunteer organization committed to improving this unique neighborhood and providing a unified voice for slopes residents. Primary areas of focus are public safety, neighborhood development and beautification.
This event also helps to benefit The Brashear Association's Food Pantry. Please remember to bring a canned food item to help stock the Brashear Association Food Pantry. Top items needed include: Peanut Butter & Jelly Spaghetti Sauce Tuna Cereal Baby Food
#StepTrek
Tickets are $13 and available here: https://www.showclix.com/event/StepTrek