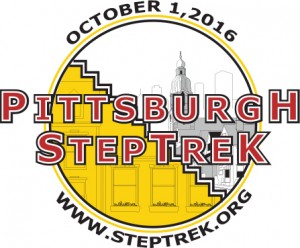 In its 16th year, the Pittsburgh StepTrek will begin Saturday, October 1st at 11am at South Side Park (Josephine & 21st Streets) on the South Side. The event has lasted this long due to the backing of individuals with a curiosity as to what lies at the top or bottom of the numerous public stairs in the neighborhood.
This "Urban Hike" through one of Pittsburgh's most unique neighborhoods is self-guided. The course narrative in the program book points out the landmarks and gives a history of the stairs and buildings, counts the steps (over 2,000) and also provides instruction as to the route.
The family-friendly (and pet-friendly) event also includes the StepTrek Market Place featuring entertainment, raffles, sponsor displays, historic photos, and food trucks.
This event also helps to benefit The Brashear Association's Food Pantry. Please remember to bring a canned food item to help stock the Brashear Association Food Pantry. Top items needed include: Peanut Butter & Jelly Spaghetti Sauce Tuna Cereal Baby Food